143 To find out more about Facebook commenting please read the Conversation Guidelines and FAQs States move ahead with food stamp cuts Jake Grovum, Pew/Stateline Staff Writer 10:30 a.m. EDT September 23, 2013 A girl pays for her mother's groceries using Electronic Benefits Transfer (EBT) tokens, more commonly known as food stamps, at the GrowNYC Greenmarket in Union Square on Sept. 18, 2013, in New York City. (Photo: Andrew Burton, Getty Images) SHARE 1525 CONNECT 107 TWEET 143 COMMENTEMAILMORE Some states are already embracing deep cuts to the food stamp program similar to those passed by House Republicans in Washington, ending the food subsidy for tens of thousands of low-income Americans regardless of what Congress does. Spurred by the ballooning cost of the Supplemental Nutrition Assistance Program, the GOP-dominated House voted Thursday 217-210 to cut $39 billion in the food assistance program over 10 years. Among the changes: Ending waivers for states that during the recession allowed as many as 4 million people to collect food stamps who otherwise would not have qualified. SNAP CHALLENGE: Panera CEO eating on $4.50 a day The fate of the congressional legislation is uncertain. The Senate approved much smaller reductions, and the White House threatened to veto any large cuts to food stamps. But in six statesDelaware, Kansas, New Hampshire, Utah, Vermont and Wyomingsimilar reductions are already in place, or soon will be. Two more states will join them once their waivers expire, potentially taking away food stamps from tens of thousands of current recipients. Top 10 states 9,19 Source: June 2013 data, USDA Republicans blame the program's ever-increasing rolls and cost on lax enrollment criteria rather than real need. Since before the recession, the price tag for food stamps has more than doubled, topping $82.5 billion in fiscal year 2013. Enrollment hit record highs, with 15 percent of Americans now collecting benefits. Many states have more than 20 percent of their population enrolled. Costs have continued to spike as well, as Washington pays for the benefits and states administer them.
Food banks are 'a slow death of the soul'
So shame on this Congress for fighting dirty during working people's hour of struggle. Polls show Americans haven't approved much of Congress lately. But there is a way to gain favor. If this Congress wants to make cuts, why not look at the Pentagon, notorious for waste? Or check out the Department of Agriculture, which made about $28 million in inappropriate farm assistance payments, according to a compilation of government waste reported in Business Insider. Or perhaps lawmakers could start with themselves? Rep. Jackie Speier, D-California, tried to shame her colleagues into cutting less from the food stamp program (called the Supplemental Nutrition Assistance Program, or SNAP). Speaking of representatives who would vote to take food from America's tables, she said, "Some of these same members travel to foreign countries under the guise of official business. They dine at lavish restaurants, eating steak, vodka and even caviar." Speier talked about 20 members of Congress who traveled to Ireland and got a daily food allowance of $166. The average amount a family member gets on food stamps is less than $4 a day.
Food stamp cuts a cruel proposal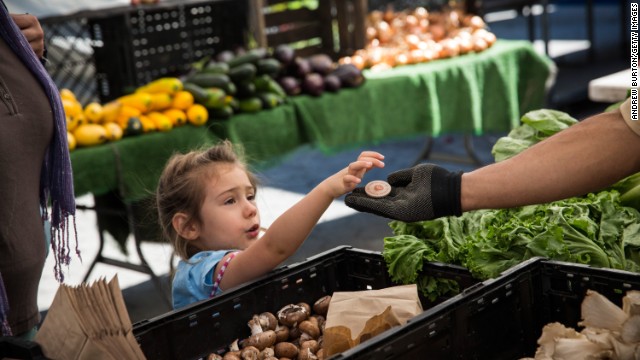 of Americans throw out food prematurely, as TIME reported last week. Basically, consumers are confused by phrasing like use by and sell by and so, to be safe, they end up tossing perfectly good produce, snacks and more. In reality, food dating really just indicates when an item is at its peak freshness, not when it becomes inedible. All of this got Doug Rauch, the former president of the Trader Joes supermarket chain, thinking about a potential solution. And now, it seems he might have found one: a market that specializes in preparing and repackaging expired food and selling it at deeply discounted prices. He plans to launch this project, called the Daily Table, next year in Bostons working-class Dorchester neighborhood, NPR reports . (MORE: How Two German-Owned Sister Supermarket Brands Became Hot Trendsetters ) Its the idea about how to bring affordable nutrition to the underserved in our cities, Rauch told NPR. It basically tries to utilize this 40 percent of this food that is wasted.He explained that the Daily Tables setup will be kind ofa hybrid between a grocery store and a restaurant if you would, because primarily its going to take this food in, prep it, cook it [for] what I call speed-scratch cooking. The basic concept of repurposing expired food isnt new. Food banks, for example, have been doing it for years. But the idea here is to make this nutritional food an affordable, quick and easy option to people who might otherwise spend their lunch money at McDonalds. And of course, its about implementing a longer-term solution to the growing problem of wasted food across the U.S.
Food pairings you can put in school lunches brought from home (Video)
I didn't get my food stamps…she said it might be 2 or 3 months, some people it has been 6 months," Rickrode told ABC11. The state's food stamp program transitioned to an electronic system called NC FAST last October, but a backlog started in July and snowballed. At the end of August, Wake County had a backlog of over 3,000 applications. So far in September, staff have processed just over 1,500 applications, but thousands of people are still without their food stamp help. "Now I can only afford to get $50 a week for myself and $50 ain't much when you try to go to the meat counter and get 2 or 3 packs of meat, it's gone," said Rickrode. Therefore, thousands of local families are turning to food pantries for help. "With NC FAST we've actually seen an increase in the number of folks coming to our pantry for food because of delays," said Dr. Peter Morris with Urban Ministries. Now all these families can do is wait for the food stamp program to serve them. "Food stamp program is supposed to serve individuals within 30 days and by all accounts counties are taking 40-60 days," said Morris. "I get frustrated when I see on the news those DHS employees that got the big raises; yet, they're the ones that's supposed to be doing the work that's getting our food. Yet, they're getting raises and we ain't getting our food," said Rickrode.
Food events in the Washington area
She says she's unhappy with the changes he is making. She hates his new rules that limit how much food can be given, and to whom, and how often. Exasperated, she exclaims: "Aren't we supposed to be giving to the needy?" The encounter helps to crystallise Saul's thinking about charity food aid . Of course we are helping the needy, but what do you say to the hungry person who turns up after the food has run out? Why do we never find outwhy the person is hungry in the firstplace? He starts to question the entire charity food-bank model "of privileged people helping the underprivileged, perpetuating an us-and-them atmosphere". For Saul, 47, a community organiser in his home town of Toronto, the problem he believes is that traditional food banks don't really help the needy. Their food "handouts" are often of dismal quality, and the "transaction" the silent, humiliating transfer of the food parcel does nothing to help clients' dignity or self-esteem, get them a job, help them out of poverty , or improve their health and wellbeing. For a moment food-bank clients are not hungry but not for long. Whose interests? "The truth is," he writes in the book, published this week in the UK, "the more time I spend in the food bank, the more certain I am of the failure of a charitable approach to hunger and poverty, which serves the interests of food corporations and some volunteers better than it does the poor themselves." (This revelation came to him in 1998.) He decides that The Stop , his down-at-heel food bank in central Toronto, has to get "aspirational". Out go the bruised vegetables and the "any-food-is-better-than-no-food-for-the-poor" ethos. They take over a huge, abandoned, tram-repair shed, set up a garden and kitchens, and hold farmers' markets, cookery courses and after-school programmes. Local food-bank clients start to volunteer. The post-food-bank model, he decides, has to be based on relationships, not transactions.
www.annapolisrotaract.org . FALL FOR THE BOOK: Cookbook authors and food writers, including Washington Post Food editor Joe Yonan, author of Eat Your Vegetables: Bold Recipes for the Single Cook, participate in a panel, cooking demonstrations, tastings and book sales and signings. 6-9 p.m. Free. Hylton Performing Arts Center, 10960 George Mason Cir., Manassas. www.fallforthebook.org . HOPS AND BEER: The session explains the different types of hops, how to grow them and how they affect the flavor and preservation of beer. Includes tasting and light refreshments. 7-9 p.m. $30. Green Spring Gardens, 4603 Green Spring Rd., Alexandria area. 703-642-5173. www.greenspring.org .
Expired Food Store Set to Open Next Year
Add a handful of grape tomatoes or chopped tomatoes and a 1/2 cup of cooked (or steamed) quinoa. You can add 1/2 cup of peeled, chopped cucumber or zucchini if desired. Then mix everything together. Serve chilled. If this is a school lunch, you can pack it in a container with a lid or use it as a sandwich filling. Kale on the top and hummus on the bottom, lightly smeared on the bread. Or without bread, serve with sesame-seed-flax-seed- quinoa crackers, if desired. The crackers can be home made by baking flax seeds, sesame seeds, chia seeds, and quinoa mixed with liquid and garbanzo bean flour and formed into a thin layer to be baked until golden brown on a cookie sheet with coconut oil to prevent sticking to the pan, if desired. Or you can see a wholesome cracker recipe online such as this zesty recipe for home-made crackers: " Homemade Flax and Sesame Seed Crackers ." What kind of food pairings go well in school lunches? The idea of combining the wrong food pairings such as protein and starch, or protein powder in a sugary or fruity smoothie with hidden vegetables and served as dessert or "whole meal" breakfast drinks may remind some people of the words in Shakespeare's Henry IV, referring to "an ill wind which blows no man to good." But the right food pairings can help tone down flatulence after dinner or around bed time. The trick is not to mix proteins or protein powder with sugary, fruity, or vegetables or not mix meat and starches in the same meal. That means the burger and fries or meat and potatoes won't go well with a dessert of ice cream, sherbet, or sweet fruit.