The renewed tension could set back a fresh drive by the countries' leaders to end a decades-old territorial dispute over the small islands north of Hokkaido which were seized by Soviet troops at the end of World War Two. The spat over the islands, known as the Southern Kuriles in Russia and as the Northern Territories in Japan, has prevented Moscow and Tokyo signing a treaty formally ending hostilities and still hinders efforts to improve relations. "If for some reason Japanese politicians cannot refrain from making public statements on the subject of the islands after a visit to Russian territory, we reserve the right to limit their participation in such trips," the Russian Foreign Ministry said. It underlined in a written statement that visa-free travel was permitted for Japanese officials as a "humanitarian act", mainly to enable them to visit the graves of their ancestors. The ministry made clear it was referring to comments by Ichita Yamamoto, Japan's Minister of State for Okinawa and Northern Territories Affairs, during a visit to the islands and quoted him as saying that his view of "the need to return territories" was reinforced by his trip. PUTIN AND TALKS Tokyo did not immediately respond. Asked about the Russian Foreign Ministry's warning at a news conference, Japanese Chief Cabinet Secretary Yoshihide Suga said he was not aware of it and declined further comment. A report by the Nikkei business daily on a news conference given by the minister on September 23 following his visit appeared to contain no inflammatory comments. "We intend to calmly accept the current condition surrounding the Northern Territories and solve the territorial issue through tenacious negotiations, without fluctuating between hope and despair," Nikkei quoted him as saying. Russian President Vladimir Putin and Japan's then prime minister, Shinzo Abe, agreed to revive talks on the islands during a summit in Moscow in April. Any new tensions over the islands would be likely to set back those efforts. An end to the dispute is not in sight, but reviving long-stalled talks is a first step to improving economic cooperation, which both sides say has failed to live up to its potential. The islands were seized by the Soviet Union, of which Russia was then the biggest part, after it declared war on Japan in August 1945 and days before Japan surrendered, forcing about 17,000 Japanese to flee. They are near rich fishing grounds. Japan and Russia are still nominally at war, although hostilities ended shortly after Japan surrendered.
Russia's state-owned Rosneft to buy out minority shareholders in oil firm TNK-BP
It said the government's investment activities slowed down in part because of the completion of the Nord Stream natural gas pipeline through the Baltic Sea. Its dependence on oil and natural gas exports, meanwhile, exposed the Russian economy to additional risks. With Europe finding new sources of natural gas, and Asian economies looking at Canadian markets, the Russian economy is starting to retreat behind the former Iron Curtain. OilPrice.com offers extensive coverage of all energy sectors from crude oil and natural gas to solar energy and environmental issues. To see more opinion pieces and news analysis that cover energy technology, finance and trading, geopolitics, and sector news, please visit Oilprice.com . Recent posts The Christian Science Monitor Weekly Digital Edition The World Bank said it revised its growth projection for the Russian economy from its May estimate of 2.3 percent to 1.8 percent for 2013. "The economy appears to be growing close to its capacity, constrained by feeble investment activities and a tight labor market," Birgit Hansl, World Bank coordinator for economic policy in Russia, said in a statement. (Related article: Why Canada's Oil Future isn't Going South ) RECOMMENDED: Fracking. Tight oil. Do you know your energy vocabulary? The report said Russia's dependence on oil and natural gas exports left its economy exposed to volatility on the global commodity market.
TNK-BP, Russia's No. 3 oil company, was taken over by Rosneft last year. Since the deal, international minority investors holding around 5 percent in TNK-BP have been left in limbo and unable to find other buyers for their stakes. The value of the investors' shares has halved since Rosneft agreed to buy the company from a group of Russian billionaires and British company BP. Foreign investors have been citing the case of the TNK-BP investors as an example of bad corporate governance in Russia. Speaking at an investment conference in Sochi on Friday, Prime Minister Dmitry Medvedev floated the idea of a buy-out, saying in televised remarks that it "would improve the investment climate in the case of this company." Rosneft CEO Igor Sechin, who was on stage one seat away from Medvedev, agreed with the suggestion, although he noted that Rosneft "had no legal obligations" to buy out the minority shareholders. It is not uncommon in Russia for top officials including President Vladimir Putin to make "suggestions" to state-controlled and private companies on key investment decisions. Rosneft's board of directors convened later Friday and approved the buy-out, Sechin told Russian news agencies. He said earlier that the company would buy the shares at the 18-month average price. Rosneft previously approved plans to pull out billions of dollars from TNK-BP subsidiaries as loans and indicated that it would not be paying a dividend for the previous fiscal year to TNK-BP shareholders.
Russia gay law creator calls Stephen Fry evil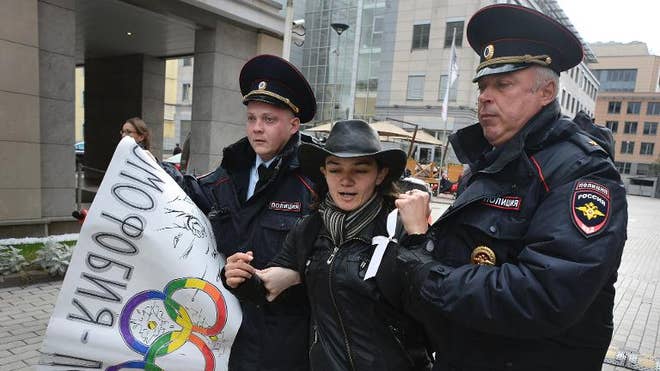 ???We have to defend the future of our children,??? said Milonov, who has children aged four and one. He railed against the legalisation of gay marriage in some European countries, describing it as a ???symptom of an illness in society, a spiritual degradation???. ???Ninety-five percent of Russians are against gay marriage. Gays do not have any support in Russian society.??? ???We could say that paedophilia is a sexual choice we could say that murder is one way to survive. But truth is truth and we cannot change the way things are. Homosexuality is not normal, I???m sorry.??? Milonov???s rants against homosexuals would see him outcast as an extremist in European societies but in Russia they fall in line with an increasingly conservative political trend. President Vladimir Putin this month put the gay propaganda law firmly in the context of Russia???s shrinking population, implying that Russia wanted to avoid encouraging homosexuality in order to bolster the birthrate. ???Russia and European countries have a big problem, the birth rate is low, Europeans are dying out.