Roman skulls unearthed deep beneath London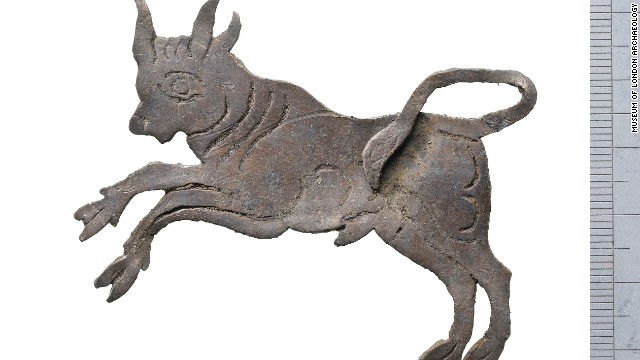 Image David Kohn Architects Londons future growth depends on creating vibrant public spaces that are accessible to all, well-connected by transport, surrounded by excellent housing and amenities at appropriate densities. Where will these opportunities co-exist in the coming century? River Rooms 2113 is a proposal for a necklace of public rooms at the scale of the city at existing and proposed River Boat piers along the Thames. The Mayor of Londons 2013 River Action Plan seeks to increase passenger journeys from 6 to 12 million a year by 2020 which could continue to rise, becoming a preferred choice of Londoners and tourists. By 2113, River Rooms could present a new way of understanding London whilst reconnecting local communities to their river frontage. FloodPlain / Neil Cummings and 51% Studios FloodPlain. Image Neil Cummings / 51% Studios #floodplain is an online platform that enables users to make collaborative, spatial representations of London, its main river artery, the Thames, and their floodplains. Using vast pools of openaccess public data the #floodplain site re-imagines the tidal Thames for the 21stcentury, suggesting new ways to map, imagine, and inhabit London, its sites and their architectures. #floodplain is a new kind of public space, that will enable users to become architects of their own environment. Lubricity / The Eastern Reach Lubricity. Image The Eastern Reach The Eastern Reach will focus on the margin of east London, straddling the tidal Thames between Rainham and Grays. This is a place of everyday life unfolding in a horizontal patchwork of river, wetlands, settlements and industry. It is held together by a landscape of hard and soft infrastructures of which the river is central. Our field of research includes an interrogation of the ecological and social processes that have formed this agricultural and infrastructural tidal zone. We will combine site-specific fieldwork and socio-spatial mapping with an open and innovative design approach. The Thames Baths Project / Studio Octopi with Civic Engineers and Jonathan Cook Landscape The Thames Baths Project. Image Studio Octopi / Civic Engineers / Jonathan Cook Landscape In 1865 Sir Joseph Bazalgettes London sewage system was opened. There are 57 overflows along the Thames and in 2012, 39m tonnes of sewage leaked into the River Thames. Thames Water are planning a super sewer completing in 2023. This will remove 96% of the sewage currently entering the river. The improvements in water quality open the possibility for once again swimming in the tidal Thames.
London stocks slide amid US shutdown fears
"I wonder if any of these Democrat and Republican politicians currently bickering amongst themselves, with the fate of the world economy in their hands, can see the irony in how the worm has turned, and how their behaviour damages the credibility of the US in the eyes of the rest of the world." The "terrible" and "unthinkable" threat of a US government default continued to transfix investors as a standoff over raising the debt ceiling surmounted angst over a week-long government shutdown. US Treasury Secretary Jack Lew on Sunday warned that Congress was "playing with fire" as Republican House leader John Boehner said the party would not raise the US debt ceiling without spending cuts. Global markets are on tenterhooks, with concerns that if the borrowing limit is not raised by October 17 — when the country runs out of cash — Washington will not be able to pay its bills and will default. "If anything the positioning of the two parties appears to be becoming more polarised and not less and as a result it seems unlikely that we will see a swift conclusion to the current impasse, which is sure to stoke even more uncertainty, as we close in on the October 17th deadline," Hewson said. On the corporate front, the aerospace sector was in focus after Airbus announced a $9.5-billion deal with Japan Airlines. The announcement helped to improve the fortunes of Easyjet which slid 2.85 percent to 1,260 pence. However, the biggest faller was Sports Direct International PLC with the high-street retailer plummeting 4.33 percent to 674.50 pence. Precious metals group Fresnillo finished top of the FTSE 100 leaderboard after the UBS brokerage raised its rating for the stock from aneutrala to abuya. The announcement helped propel the Mexico-based miner up 1.97 percent to 931.50 pence. Aviva was also in demand and Britain's second-biggest insurance group was up 1.88 percent to 422.60 pence. Lloyds Banking Group ended the session as the most traded blue-chip with 122.98 million units changing hands, followed by 55.17 million for telecom giant Vodafone. On the currency markets, the pound gained ground on its main rivals and strengthened to $1.6087 at 5:12 pm from $1.6010 on Friday evening.
Ten thousand accessioned finds have been discovered at the site. This is the largest assemblage of small finds to have ever been recovered on a single excavation in London. A Roman copper-alloy brooch. A Roman iron knife. A mystery leather item. This site has supplied the largest quantity of Roman leather to have ever been unearthed in London. Roman copper-alloy plate brooch with blue enameling. An inked Roman letter. Over 100 fragments of Roman writing tablets have been unearthed, including an affectionate letter. A ceramic oil lamp depicting a stag. Approximately 700 boxes of pottery fragments will be analyzed by MOLA — Museum of London Archaeology — specialists. Complete Roman ceramic beaker. Roman leather carbatina (a shoe.) Roman fist and phallus. The largest assemblage of fist and phallus good luck charms from one site was discovered.