The dramedy about the 1960s New York folk music scene, which was written and directed by Ethan Coen and Joel Coen, just enjoyed a weekend to remember: its New York premiere took place at Alice Tully Hall on Saturday night and was followed on Sunday night by "Another Day, Another Time," a star-studded charity concert celebrating the music of the film at The Town Hall on Sunday. The film will go into limited release on Dec. 6 and the concert will air on Showtime a week later. our editor recommends New York Film Fest: New Chief Explains 2013 Picks (Q&A) Llewyn Davis had its world premiere at May's Cannes Film Festival, where it was awarded the Grand Prix. It then resurfaced earlier this month at the Telluride Film Festival, where the Coens and executive music producer T-Bone Burnett — with whom they teamed on The Big Lebowski (1998), O Brother, Where Art Thou? (2000), The Ladykillers (2004) and now this film — received a special tribute. And, on Saturday evening, it arrived in Gotham, with almost all of the creative team responsible for it on hand to take a pre-screening bow: the Coens were joined by Burnett, associate produer/singer Marcus Mumford and stars Oscar Isaac, Carey Mulligan, John Goodman, Garrett Hedlund, F. Murray Abraham, Adam Driver and Alex Karpovsky, among others. (Justin Timberlake was unable to attend as he is on tour in London.) At the end of the film, the tough New York audience offered it a strong round of applause. PHOTOS: New York Film Festival 2013: 13 Movies to Know But the major fireworks were saved for Sunday evening's sold-out concert, a portion of the proceeds from which will benefit the National Recording Preservation Foundation. I'm told that the idea for it was initially raised by Burnett and the Coens — who previously put together a concert tour for O Brother — and that it was then quickly coordinated by the film's super-producer Scott Rudin, CBS Films co-president Terry Press, CBS president and CEO Leslie Moonves and Showtime chairman and CEO Matt Blank. Regardless, it's hard to imagine that any other "pseudo-event" could have done a better job at raising awareness of and sparking excitement about the upcoming film than this event, which sold out the 1,500-seat Town Hall venue in less than 12 minutes. (Among those in attendance were Zooey Deschanel, Jesse Eisenberg, John Gallagher, Jr., Bennett Miller, D.A.
New York Giants: What You Need to Know Heading into Week 5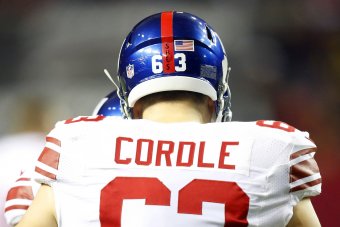 If Herzlich cant go, the team will likely turn to Allen Bradford, who was acquired off waivers from Seattle in Week 2 of the season. There was no new information available on the statuses of Pierre-Paul, Ross or Tuck, all key starters. The Giants planned to update their statuses on Wednesday. Meanwhile, with safety Will Hill eligible to return from his four-week league-imposed suspension this week, it would not be surprising if the team places Robinson, who has been seen the past two weeks in a protective boot, on injured reserve to clear a roster spot for Hill. Bob Donnan-USA TODAY Sports In their past two games, the Giants special teams have been inconsistent. On punt coverage, Steve Weatherford had another punt returned for a touchdown, this time byMcCluster, who brought it back 89 yards for the score that not only broke open the game, it also accounted for seven of the 10 points the Chiefs generated thanks to excellent starting position. Of Weatherfords eight punts, the Chiefs three times had starting position on their 30-yard line or better, as Weatherford failed to put the ball outside of the numbers like Coughlin prefers. It didnt help that the punt coverage was unable to stop McCluster, who on those three returns generated 32 total yards to give his team even better starting field position. Meanwhile in the placekicking department, Josh Brown, who came to the Giants with a reputation for having a big leg, missed a 44-yard field-goal attempt at the end of the second quarter. Had he made that kick, it would have tied the game at 10-10 at the end of the half. 2. The Hakeem Nicks -Eli Manning Connection Denny Medley-USA TODAY Sports Once receiver Hakeem Nicks ended his springtime boycott of the Giants OTAs, both he and quarterback Eli Manning insisted that it would take little time for them to get back in harmony. They are still apparently looking for that connection. According to Pro Football Focus (subscription required), Manning has targeted Nicks 25 times this season, connecting with him on just 12 receptions (48 percent) for 230 yards and no touchdowns. For comparison purposes, in 2011, Nicks last healthy season, he and Manning connected on 61.9 percent of the targets for 1,637 yards. If this passing game is to get back on track, it needs better production from its No.